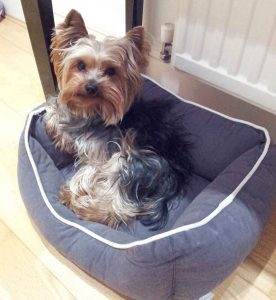 If you are going on holiday where you can't take your beloved dog, we are here to offer safe home from home environment with our reliable partners. We know that you may worry about leaving your beloved dog in someone else's care when you can't be at home. If you are not around your dog, you want your doggy taken care of with the same love and attention you would give them. That's exactly what we do at Paws of London to make your life easier!
We provide home-based boarding for only a few, friendly pups, so they get our full attention and lots of love. During the day, they can play, rest and socialise with their new friends, inside or outside with constant supervision. We take them out for walks at least four times a day, so they get plenty of activities. We treat your pup as a member of our family ensuring your dog has a great time with us.
Dog boarding service from £45/day. Perfect for dogs based in Chelsea and for dogs in other areas of London.
Home From Home

We provide a family atmosphere and fun environment without locked rooms or kennels.

Limited Spaces

We keep spaces on minimum to provide an unparalleled level of personalised care and attention for your pup.

Indoor & Outdoor Activities

Indoor pampering, playtime, socialising and sleeping, also plenty of walking or exercising during the day.

Safe Environment

We are always around, your dog is supervised all the time and never be left alone.

Communication

You don't need to worry about your dog, as we always send reports and photos of your pup's best moments.

Dog Boarding Price

From £45 / day. Including free pick-up and drop-off in Chelsea and the nearby areas. (SW3, SW5, SW7, SW10)
Meet & Greet
Need help caring for your pets while you're out of London? We are reliable and friendly!
Our boarding service is here to make your life easier when you are out of town.
Our boarding care service is available for friendly dogs only.
Availability during the weekends are limited and subject to a £20 surcharge.
Pet services during bank holidays like Christmas, New Year's Eve, Easter, etc. are double charged.
We are better than a dog hotel! Check our reviews or ask for references!