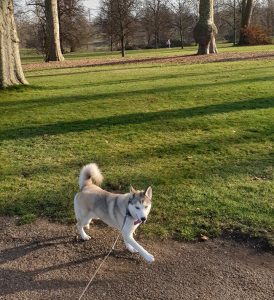 It is quite difficult and stressful to find a reliable dog walker to care for your pets while you are at the office, or going on holiday. Paws of London is a professional service you can trust. We are dog owners too, so we know how important is your pooch to you. We prioritize safety and offer loving care to your four legged friends! We want your dogs to feel comfortable with us as they would be with you, leaving them excited for their next walk or exercise in Kensington, and of course your dog always sees the same friendly face. Regular walking keeps your dog fit, gives a chance to socialize with other dogs, and can reduce behaviour problems.
We provide a range of services in Kensington: dog walking, cat sitting, doggy daycare and boarding, puppy visits, pet taxi and more, which can be customised to your needs. We either walk your doggy individually or for socialization with a few friendly dogs. We never rush the walks, our dogs always have plenty of time to sniff around and stop whenever they want.
We all know the importance of a healthy dog, both mentally and physically. They are calmer in home and less destructive when they get enough walks or plenty of playing time. Sometimes it could be boring for a dog to stay in home all day without you. As they love meeting doggy friends, walking and exercises, we could offer everything they desire when you cannot be around them. We guarantee that your pet and your home will be in the best of hands, second only to you. We send photos and updates after each session.
Short Dog Walking – £20 / 30 min

Ideal for dogs, who don't require lots of exercising during the day, it's a healthy walk, just a little escape from an empty house. Available in some parts of Kensington.

Group Dog Walks – £30 / hour

We are walking with a few friendly dogs, visiting their favourite places in the area. This option is perfect for socializing with others and became friends.

SOLO DOG Walking – £40 / hour

Recommended for dogs who deserve the absolute best, maximum attention and love or who prefers to walk alone. We are taking your pooch at his/her desired place around your neighbourhood, making sure to visit all of his/her favourite spots.

Puppy Visit – £25

For puppies who have not had their vaccinations yet or are not ready to be walked. It includes a potty break, feeding, fresh water and lots of playtime. If vaccination is done, we can try to pair with another playful puppy to help develop socialization skills.

Cat Sitting – £25

Pop in for feeding and refilling your kitty's water bowl. Cleaning and replenish the litter box. Socialize with your cat, whether it's playing with toys or just petting and cuddling.

Pet Taxi

Safe transportation of your dog/cat to the groomer, vet, airport, or anywhere you need.
Photos and updates after each visit.
All options can be customised according to your needs.
During the walks your dog never be left unattended and is always closely supervised.
We offer discount for the second dog from the same household.
The listed rates are for Kensington (SW5 / SW7 / W8 / W11 / part of W14)
Check on Facebook or our gallery for our happy clients!
References available upon request.
Meet & Greet
Need help caring for your pets while you're at the office or going for a holiday? Feeling guilty because your pooch hasn't been getting out enough? We are here to make your life easier when your schedule is busy. The perfect care for your pet!
If you searched for "dog walkers near me in Holland Park" or "dog walking services in Earl's Court" you've come to the right place! Paws of London is offering reliable, personalised, and dependable pet care services in Kensington. Some of the areas we are walking are South Kensington, Earl's Court, Gloucester Road, Brompton Cemetery, Holland Park, Notting Hill, Kensington Gardens, Hyde park, Ladbroke Grove, Cromwell Rd, Courtfield… If you have any questions, please don't hesitate to contact us by e-mail or phone.